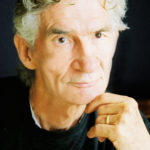 A few years ago, at the Write to Publish Conference in Wheaton, a man by the name of Cecil Murphey was conducting a workshop on book proposals. Even though I had been writing for many years, I was new to the wide world of Christian publishing, so I didn't know Cec from Adam. But little did I know that this man would profoundly affect my writing and would become a close personal friend.
Cecil Murphey is one of the most prolific writers, having collaborated with numerous celebrities on telling their story. He has worked with Franklin Graham, Shaun Alexander, Don Piper, Ben Carson, Michael Youseff, BJ Thomas, and many others. Cecil Murphey has had 108 books published, 700 articles, and publishes 3-4 books a year. His books have appeared on the New York Times bestseller lists and are printed in numerous languages.
Cecil Murphey has had unique life experiences, as a missionary in Africa, a pastor, and a public-school teacher. But what people most love about Cecil Murphey, though, is his generous spirit. He has invested himself, both with his teaching and personal resources, to train up the next generation of Christian writers.