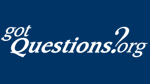 This is the last of three classic Friday Five interviews I'm posting while our family enjoys some vacation time. This is with S. Michael Houdmann, founder and proprietor of Gotquestions.org, one of the most heavily trafficked Christian sites online. And believe it or not, this interview continues to be one of the most popular pages on my blog:
Last year, while attending the annual gathering of the IFCA, I stopped by a booth and met S. Michael Houdmann, a graduate of Calvary Bible College and Seminary. He introduced me to his powerful website, gotquestions.org. I remember thinking, "Why hadn't I discovered this before?" Since that time I've regularly visited gotquestions.org. Its a unique ministry idea. Essentially they answer Bible questions every week, not just easy questions like "Who is Jesus?" but tough theological questions. And every single question is answered with Biblical precision and accuracy. I can't tell you how many times I was preaching or counseling on a narrow theological idea and just needed a sort of launching point in Scripture and turned to gotquestions.org. They have an archive of thousands of questions and even have a page of FAQ, what they consider their most important questions about God and the Bible.
By the way, Got Questions is now available as an iPhone app.
I think gotquestions.org is one of the most profoundly useful tools to the Christian today. Today, we have the privilege of talking about gotquestions with its founder, S. Michael Houdman.