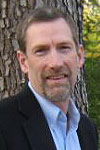 It is my privilege to interview one of the top literary agents in the country. Chip MacGregor is more than just a literary agent, he's a consummate "book guy" enjoying a successful career in all phases of publishing, from writing, editing, collaborating, publishing, and representing. Chip has discovered, collaborated with, and coached some of the most well-known authors, including Kay Arthur, Dr. David Jeremiah, Joe Stowell, Andy Andrews, and many others. Chip's authors have spent numerous weeks on The New York Times best-seller lists, perhaps his most famous was Let's Roll, the moving memoir by Todd Beamer's widow, Lisa. Chip has also authored twelve books, including two bestsellers.
Chip is a favorite at writer's conferences all over the country. He is a legend in the Christian publishing industry, known for his candor, knowledge of the industry, and passion for good writing. Personally, I have heard Chip speak on numerous occasions and have known him personally. He's always a good and honest source of advice and is fiercely loyal to his clients. He's also got one of the wicked senses of humor around. His blog, chipmacgregor.com is a rich source of information about the publishing industry, one that every serious writer should immediately bookmark.
1) Chip, a lot of people are talking about the future of books versus the digital technology (iPad, Kindle, Nook, Sony Reader). What is your perspective on where this is going?
History has taught us that as new technologies are developed, the culture adapts to them. We used to walk across the room to change TV channels. We used to stop and find a pay phone to call home. We used to re-type each page of a manuscript that had error. But we've adapted our lives to adjust to remote controls, cel phones, and PC's. (And, of course, the advent of TV's, telephones, and typewriters were cutting-edge technologies in their own days — each requiring adaptation from radios, telegraphs, and handwritten notes, respectively.) Right now we're moving from printed materials to digital materials, and that's creating a lot of change for people. My son will read a book on his cel phone — that's about all anyone needs to know regarding the future of digital technology. All those extant great books and words? They're all out there, ready to be interpreted through a new medium.