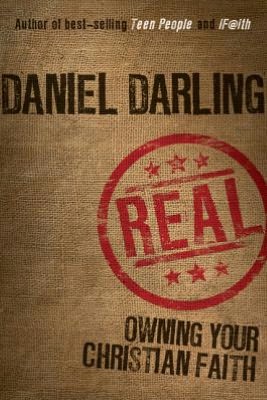 My publisher has graciously made available, for download, the first chapter of Real, Owning Your Christian Faith. You can download it here:
Here are a few of the nice things people have said about the book:
"Daniel Darling knows that faith cannot be inherited; it must be owned. In REAL, he shows us exactly how to develop an organic and authentic faith. This compact but powerful book will revitalize the spiritually bored and burned out by helping them glimpse Jesus in fresh ways."
Jonathan Merritt is the author of A Faith of Our Own: Following Jesus Beyond the Culture Wars
"Second generation faith can be a little like next day pizza—cold, stale, and tough to swallow. Darling's book is for those weary of subsisting on spiritual leftovers. He understands the sometimes stultifying effect of the evangelical subculture on spirituality and sees what it takes to thrive as a second generation Christian. The writing here is lively and the reflections—interspersed with interviews with top ministry thinkers—are fresh. The perfect read to send fresh wind through your spiritual life."
Drew Dyck is the managing editor of Leadership Journal and author of Generation Ex-Christian: Why young adults are leaving the faith…and how to bring them back (Moody).
You can read more endorsements and reviews here:
And then, if you really like it, you can order the book (available in print, Kindle, Nook, and Stone Tablet (just kidding))