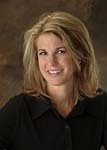 In 2005-2006, I had the privilege of volunteering to help a congressional candidate, Dave McSweeney, run for Congress here in Illinois' 8th district. What emerged from that race was more than a campaign. I became great friends with both Dave and his wife, Margaret. And today I have the privilege of interviewing Margaret McSweeney. Margaret has a heart of compassion and a gift for connecting people. In fact, she was the one who encouraged me to send my first manuscript to her friend, Andrea Mullins, from New Hope Publishers.
Margaret is an accomplished author and speaker. She has written A Mother's Heart Knows , Go Back and Be Happy, and is the editor of The Pearl Girls Book She writes for a variety of newspapers and publications and has interviewed notables such as Wolfgang Puck and Thomas Kinkade.
Margaret is the founder and director of  an organization called Pearl Girls. Pearl Girls is a remarkable effort that brings together well-known woman from across the country to share their stories and raise money for charities. Margaret serves with several charitable organizations and sits on the board of WINGS, which provides hope to victims of domestic violence.
Margaret is also the host of an Internet Radio Show called Kitchen Chat, where she interviews well-known authors, writers, and celebrities. Margaret and her husband Dave live in the Chicago area with their two daughters.